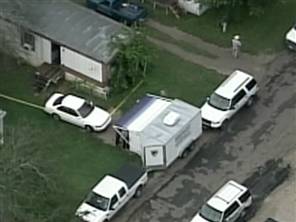 If you were a 25 year old woman with four children, a job at a fast food restaurant, no electricity in your trailer, and a restraining order against your last boyfriend, what would you do?
I just asked my kid this question, and his answer was "rob a bank," god bless him. I didn't even think of that and neither did Gilberta Estrada. Instead, she hung herself and her children this morning. The baby survived, rescued by Gilberta's sister. They lived in Hudson Oaks, Texas, where less than five years ago, another mother shot her three children before killing herself.
Andrea Yates lived in Texas and so did Deanna Laney, who beat her two young sons to death in 2003. There are more, but you get the point. What goes on in Texas? Is it the poverty, the Christian family values charade, the ignorance, or something in the water?
I feel Gilberta's desperation. I wouldn't dream of passing judgment on her. It takes a village, or something. But I guess you can't find one in Texas.