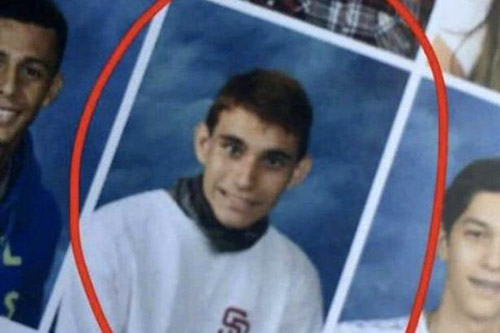 I know you're supposed to be horrified by school shootings, and I am, but from the first description of Nikolas Cruz, my heart went out to him.
No one is justified in shooting up a school. The actions aren't justified, but they seem tragically predictable. Given his circumstances, I believe he is a victim of Florida's gun laws, and the NRA. Without easy access to assault rifles, he would just be a lonely outcast, failed by his parents, his school district, and the local police department.
Here's an interview with a neighbor:
"He had emotional problems and I believe he was diagnosed with autism," Mr. Gold said of Nikolas Cruz. "He had trouble controlling his temper. He broke things. He would do that sometimes at our house when he lost his temper. But he was always very apologetic afterwards."

"He would sometimes be hitting his head and covering his ears. One time, I sent him home because he was misbehaving at our house and he took a golf club and smashed one of my trailers."

He said that Mr. Cruz at one point had gone to a school for students with special needs. "Kids were really picking on him and would gang up on him and beat him up a little," Mr. Gold said. "They ostracized him. He didn't have many friends."
Nikolas was adopted at 2 years old. His father died when he was six.  As a child, "Nikolas was moody, prone to an explosive temper and at times seemed to delight in antagonizing others." People began to avoid him. In school, kids started calling him crazy. He played with his fingers and talked to himself. As he grew older, his mother often called the cops to reprimand him for his outbursts.
Let me stop here and say, HELLO, SCHOOL ADMINISTRATORS? HOW ABOUT SOME INTERVENTION? HOW ABOUT SOME BEHAVIORISTS? HOW ABOUT SOME SOCIAL SKILLS CLASSES? HOW ABOUT A CHILD PSYCHIATRIST AND SOME MEDICATION FOR ANXIETY OR MOOD SWINGS?
Instead, Nikolas went to a nice, wonderful, gigantic high school where he could be shunned and act out with weird talk about knives and weapons. The nice wonderful school expelled him because he just wasn't right in the head. Here's what a student at the nice school said about Nikolas:
"He was definitely not accepted at our school socially. People saw him as someone who was different than the normal people at our school," Parodie added.

Douglas High has a place students call "the Emo Gazebo," he said. "That's where all the kids that are considered weird or not accepted sat. Kids at the Emo Gazebo didn't even accept him there. He was just an outcast… He didn't have any friends."

"Most kids ignored him at school. They pushed him off to the side as if he was garbage. He screamed in class one time. He was upset and just started yelling at the teacher. The teacher was trying to help him and he just took it the wrong way," Parodie continued.
Meanwhile, his Instagram is full of guns and weapons. Right in the open for all to see. He is obsessed with them. He comments on someone's video that he wants to be a "professional school shooter." He uses his real name!
In November, his mom suddenly died of pneumonia, leaving him alone with no support system. A sympathetic family takes him in. But he is devastated by the loss of his mom, and very depressed.
You know what happened next. Now he's on suicide watch. His lawyer says he is remorseful and distraught.
I have known families with troubled kids, kids who have conduct disorders along with autism, kids who flip out and can't manage their impulses. Often, thee kids are sent to residential schools for intensive therapy. And often, they can move back home, more in control and aware of boundaries and consequences.
A few years ago, I had a new neighbor, who had just divorced a very famous movie director. She confided that their son was at a residential school due to his violent outbursts. She loved her boy but was afraid of him. His diagnosis was autism, but he may have been bi-polar as well. Time passed and I saw the kid at the Oscars with his famous dad, looking nicely groomed and very happy.
Poor Nikolas didn't have a famous rich dad. That's his crime.
The rest is on the fucking NRA and their flunkies in congress. Thoughts and prayers to those bastards.