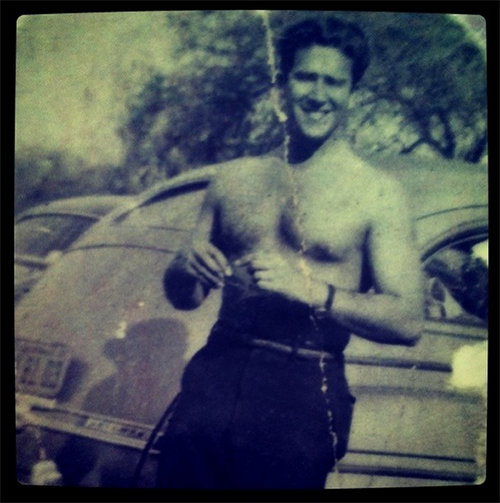 I've become a big fan of IDTV, or The Murder Channel as I like to call it. Most of the time, I find the stories entertaining and even calming. But once in a while, something will trigger a real sense of shock and horror.
A couple of days ago, I watched the story of a serial killer, punctuated by interviews with his now adult daughter. In old photos, you can see the daughter as a toddler and the father as a big, good-looking all-American guy. The daughter describes him in those days as a charismatic family man.
But she recalls that all forms of horsing around with her dad ended up as uncomfortable power plays. Tickling became torture, as she begged her dad to stop. He would pin her arms down and keep on tickling.
Here I began to think, uh-oh.
My dad liked to be physical with me and my sister when we were kids. In one game, we would all get on his big bed and the object was to try to throw him off. Of course, this was impossible. I can't remember if I enjoyed the struggle. I think I enjoyed this substitute for affection, since my parents divorced when I was three and I was a timid, neglected child.
Other games included trying to get his thumb loose from his fist. He was strong, a weightlifter and tennis player. We could never succeed and he enjoyed our committed struggles. He also enjoyed challenging us to perform some impossible task. When I was around eight, he bet that I couldn't do 500 deep-knee-bends. Why would a father do this? Beats me, but I was determined to win. I somehow managed to rise to the challenge and I was in agony for days afterward. I remember my mom yelling at him about it.
When we were very young, my dad used to take us out on the freeway in his big Lincoln Continental and he would suddenly let go of the wheel at a high speed. He would turn to whichever of us was sitting next to him and say, "Take the wheel! Hurry up, you have to control the car!" Our terror was hilarious to him. Later, I would have recurring nightmares about a car I couldn't control. I still can't drive on freeways.
Back to the daughter of the serial killer, she recalls that her dad used to take her on a walk over a bridge. Halfway across, he would lift her up and pretend he was about to throw her over. She notes that she learned to run away before they got to the halfway mark.
My dad used to take us on a fishing boat that stayed out all day. I liked to fish. But I didn't like it when he sneaked up behind me and suddenly lifted me off the ground, saying "I'm gonna throw you overboard!"
What fun he had!
The daughter in the story recounts her feelings of shame when her dad flirted with waitresses, crossing over the line of normal friendly banter.
Ditto, with my dad.
She was in high school when her dad was arrested for murder. He confessed to killing at least 8 women, but may have killed as many as 100. One was his fiance, who had rebelled against being dominated and had mysteriously disappeared. The daughter worries about having her father's genes. She's glad he didn't kill her.
My dad died around 8 years ago, never having killed anyone as far as I know. But finding that his behavioral profile was so similar to the serial killer…that is upsetting. What the fuck was wrong with him and why didn't anyone step in? How many fathers go around terrorizing their children in order to feel powerful? How many kids know that this isn't normal?
Does this sound familiar to any of you??
As Father's Day approaches, may my dad rest in peace, but may he stay good and dead.