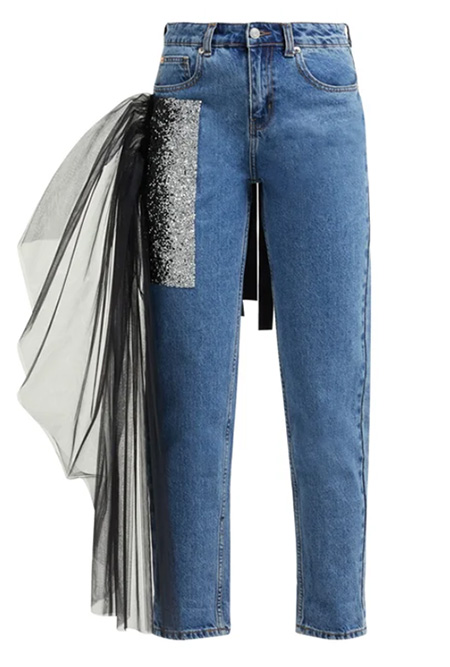 I've been unable to write due to problems with concentration and a profound apathy coupled with a deep sense of hopelessness. The usual, only more debilitating.
My mental hygiene is not what it should be. I like to watch the news on MSNBC for hours on end, without moving except to scroll through Instagram, clicking like a lab rat, heart heart heart. Last night I stayed up watching TV til 5:am, just to hear more outrage about our beloved leader.
But now the sight of these jeans has cleared the cobwebs away, so to speak. I once knew a woman who said she needed to "get laid" every so often just to clear the cobwebs away. Isn't that awful? No wonder I can't remember her name. But I remember when she said it. It was an instant deal-breaker.
Anyway, behold. These "Tulle-trim crystal-embellished straight-leg jeans" by Germanier are $764 but already sold out in my size. Shit. Here is the rear view.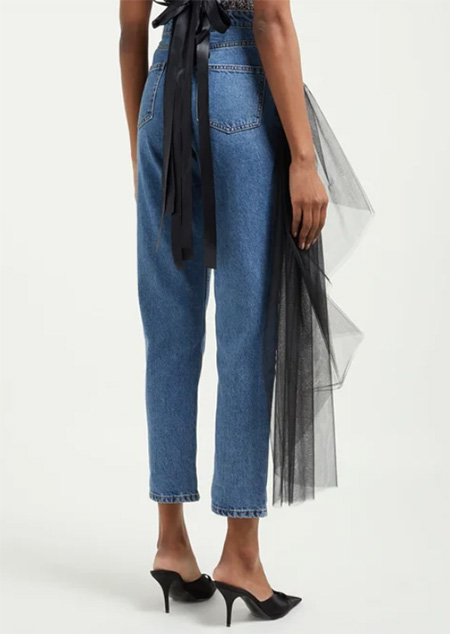 Sustainable label Germanier repurposes glittering silver and black crystals which would have otherwise gone to waste to create these playful blue high-rise jeans. Cut to a slim, straight silhouette, they're trimmed with black tulle which drapes elegantly down the side. Style them with a white T-shirt for an ultra-contemporary look.
Wait, huh? Aren't they still going to waste??? And what do they mean by "elegant"? Well, who cares, truth is beauty and beauty is truth.
If you REALLY have balls, denimwise, you would forget the jeans with tulle and go straight to this:

Junya Watanabe knows how to bring the crazy. Just feast your eyes! When you walk into a room wearing this, you'll know where that extra money went.
Short sleeve layered long dress in faded indigo denim and white cotton jersey. Asymmetric construction featuring tulle trim, lace detailing, pleats, and raw edge at hem. Rib knit crewneck collar. Half-zip closure at front. Zippered vent at side-seam. Silver-tone hardware. Tonal and contrast stitching in tan.
Part nurse, part fairy princess, part mental patient, you will be the center of attention at any event, for $2,415…but not if you're a size large because that is sold out. Good, because a Large woman would be especially resplendent in this dress, don't you think?
Okay then. You're welcome! I'll be back with some other shit before you know it.