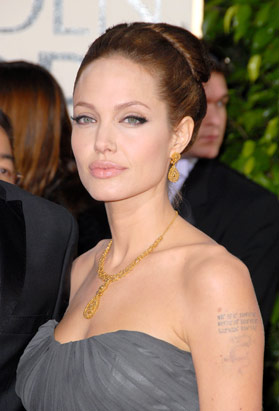 God, wasn't it boring? At least there were some fashion atrocities to make it worthwhile. First, let's review the show itself.
George Clooney opened with a Leo Dicaprio joke that a couple of presenters dutifully carried on. It might have been a great running joke if every single presenter followed through, but no dice.   Meryl Strreep was funny and regal, while Helen Mirren was earnest and regal. Clint Eastwood reminded us that we will all get old one day no matter how fabulous we once looked. Justin Timberlake reminded us that Prince is even shorter than he is. Warren Beatty was an old windbag whose endless blather allowed me to go and pee and even send an e-mail without missing anything. It's nice to know that someone is actually even more egotistical than advertised.
Okay, on to fashion!   Renee Zelwegger wore a simpler than usual green frock (I'm guessing that she would use the word "frock" which is sickening in itself) and her puckered-lips expression was perfection. She has mastered the look of someone who just ate an extra sour lemon drop while getting a flue shot.
Emily Blunt wore a dress of such butt-enhancing splendor that you could actually see J-Lo's husband whisper something in her ear, which I assume was something like "Baby, you better get that designer's name."     Jennifer Love Hewitt wore a ridiculous Halloween costume of some sort and carried her large exposed bosoms on a hidden tray. Sharon Stone wore a nothing-looking black slip-dress and looked like a   crack-whore.
Cameron Diaz wore a ruffled prom dress just to make us pity her even more. Her new nose set her face askew and added to the Sad Clown thing she has going on. However, Reese Witherspoon was a goddess in a sexy yellow sheath and a new hairdo with bangs. Her look said "Drop that Husband, Girl!"
Finally, Angelina. She was obliged to wear St John for contractual reasons, apparently. But the grey chiffon gown was pretty and elegant, and most important, it exposed her back and arms. Angie looks a little like a high school yearbook, with "Have a great summer!" written all over her.   She couldn't be thinner or more   above-it-all. God bless her and Brad!