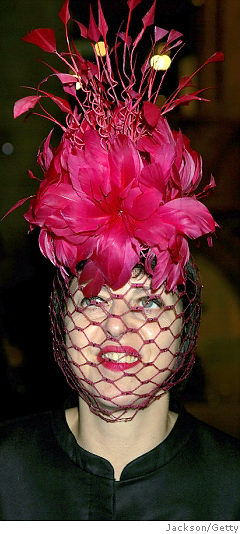 Fashion iconoclast Isabella Blow has died at the age of 48, supposedly of cancer. But because of her history, those who knew her believe it was suicide.
One magazine source says: "She tried to kill herself again last week and drank bleach, then on another occasion she tried to jump out of [her husband] Detmar 's car." Self-administered poison was the leading theory among the New York fashionistas who gathered for the annual Met Costume Institute's Benefit Gala.
In 2005, Blow tried to kill herself by jumping off a London bridge. After breaking her feet and no longer being able to wear any of her 280 pairs of spiked heels, she was inundated by gifts of flat shoes from Manolo Blahnik and Christian Laboutin. Fellow style icon Victoria Beckham, on hearing of the 2005 suicide attempt, famously declared: "What genius!" (What the hell did she mean by that? If only I knew.)
Designer friend Zac Posen notes, "Thoughts of suicide were a big part of her existence and her persona."
Isabella's grandfather killed himself after disgracing the family in a  scandal that was the center of the "White Mischief" case. When she was four, her saw her younger brother drown in an outdoor pool. Later, she and her sisters were abandoned by their mother, who shook their hands before leaving.
Headhunted by Vogue and Tatler, she was in her element. When she met  aristocrat art dealer Detmar Blow at a society wedding in 1988, she seemed to have found her niche. Bohemian and colorful, Blow's family were as acquainted with tragedy as her own, his father having killed himself by drinking weedkiller.
When Detmar had an affair with a "diminutive lesbian author," Isabella was crushed. She got even by sleeping with a penniless gondolier in Venice.
Her robust views on models, designers and the world in general would be delivered in a very loud, cut-glass English voice, punctuated by incongruous obscenities, sexual innuendoes and flagrant namedropping. Working for Anna Wintour at Vogue magazine, she instilled fear in young women who might not live up to her standards of style.
"If you don't wear lipstick I can't talk to you," she was known to declare in a booming voice.
The lipstick quote alone is enough to make me love and mourn this woman, who defined the art of being a grand eccentric. I wonder how that moron Victoria Beckham will react.