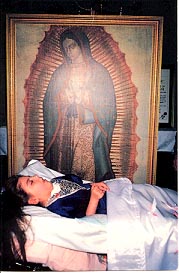 Audrey Santo fell into a swimming pool when she was three years old and nearly died. Most of her brain died, apart from some activity in the brain stem. Later, her mother decided she was a 'victim soul,' someone who agrees to take on the suffering of others to pay for their sins. The comatose child became famous, and visitors came to her house to view her through a glass window. Religious statues and paintings in the house dripped with oily tears, which visitors could take home with them on q-tips.
It's a weird and awful story that brings to mind Terri Schiavo, who at least didn't have to undergo this indignity. Little Audrey Santo finally died early this year, but her story lives on, thanks to the miracle of the internets and my morbid preoccupation with stigmata. Read about Little Audrey here, here,  and for maximum impact, here.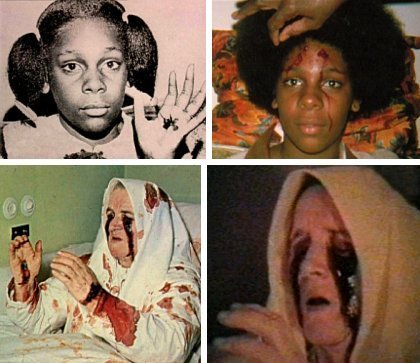 If that's not enough for you, read about miraculous weeping statues, etc, here.