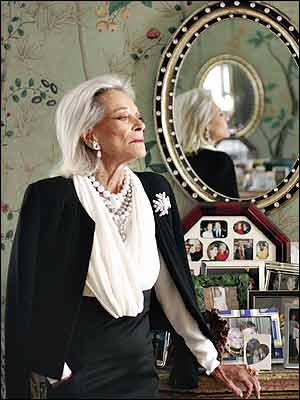 Nan Kempner was a New York socialite famous for her vast collection of couture clothing and her delightful outspokenness, such as her  pronouncement to Vanity Fair, "I loathe fat people!"
I remember reading about her in W, which chronicled her luncheons and charity events and famous friends. Spy magazine used to publish unflattering pictures of her, with hilariously insulting captions.   She is said to be the inspiration for Tom Wolf's descriptive term, "social x-ray."   As I google her now, I see that she was a living rebuttal to the adage: "You can't be too rich or too thin."
The Metropolitan Museum is currently hosting an exhibit of Nan Kempner's clothing collection, celebrating her "cool elegance" and "iconic style." There's that word "iconic" again!   Mrs. Kempner certainly knew how to spend money. She had 360 sweaters and 200 bikinis, along with couture gowns by all the usual designers of her era.   She had a 14 room apartment where she could store her clothes, and she was renowned for her ability to make a plain white shirt look chic.
God, what bullshit!   Could anyone get away with this now? Such waste and narcissism and obsessive consumerism just seems nuts, doesn't it? However, if it turns out that this kind of shopping addiction is still considered some kind of accomplishment when I kick the bucket, I hope that my own lifetime of spending and hoarding will be honored with a similar tribute at the Met.
I would like people to wander around a huge exhibit of my red lipsticks, my cashmere sweaters, my glorious push-up bras, my boots,   my leather jackets, handbags, vintage costume jewelry, my kitsch religious crap, my sneakers, my gold bangles, and last but not least, my hair products.   The hair products alone probably represent close to $500 of wasted money.
Now I've gotten myself all excited about my exhibit! I'm going to have to start cataloguing everything. I can promise that I won't be through before April, when the new leather jacket I just bought online is due to be shipped.
I kind of don't like fat people either, now that I think about it.