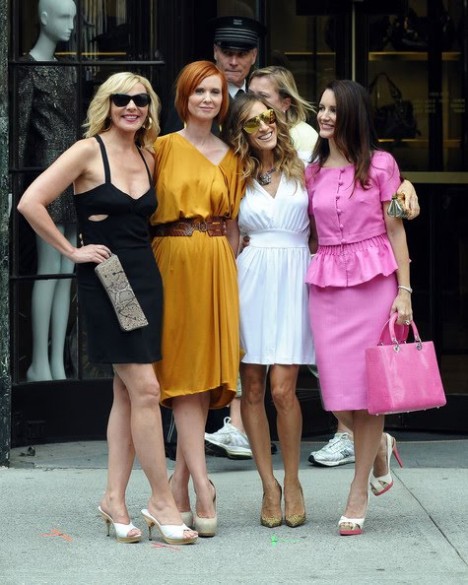 Am I the only female on earth who doesn't care about Sex and the City?
I don't care about the new movie any more than I cared about the other movie, which I didn't see. Who gives a shit about these awful women? Oh right, everyone. I tried to watch the TV series a couple of times but all it did was create arguments with my husband. I would start whining. "Oh god, eeoow, she's so ugly!' or "Jesus, how pretentious!" and he would reflexively defend SJP and the dialogue, both of which I found excruciating.
So, can I assume the popularity of this franchise is something to do with female friendship? Does it remind us how nice it is to have a group of girlfriends who aren't afraid to say 'clitoris'? Or is it just a fantasy about having lots of clothes?
Is it a comforting fable about how you can be super ugly but still considered attractive a la SJP? If I was ever going to respect SJP, I would have to reconsider after she denied having that mole removed.   She can deny that her husband's gay if she must, but denying the mole is like insisting that we're all blind or brain-damaged.
All I know is this: I have zero interest in seeing this movie. I hate all four actresses. I am mystified by the whole phenomenon and it took years for me to decipher the acronym SATC.
(In fact, I just learned what FLOTUS and POTUS mean!)
The only movie I want to see less than Sex and the City 2 is Killers, a romantic comedy starring Ashton "I can't shut up!" Kutcher. If I had to choose between them, I'd just kill myself.