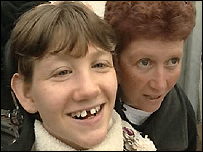 The doctor who performed surgery on a disabled child in order to stunt her growth has commited suicide. Too late, buddy, is my feeling.
The family of the child, who they call their 'Pillow Angel,' had thanked Dr. Daniel Gunther for taking their daughter's controversial treatment from 'an idea' to reality. They feel luck to have 'knocked on the right door.'
One man's Right Door is another man's circle of hell, I guess. I think it's safe to assume that the doctor couldn't live with his decision. Too bad the little girl had no options,  and has no escape hatch.
Now some woman in the UK  wants to remove her disabled daughter's uterus.  Katie Thorpe  is 15, and  her mother wants to eliminate the nuisance of menstruation. She notes that the girl doesn't need her uterus, since she's not going to get married or have children.
I hope the doctor who's agreed to perform Katie's hysterectomy has the decency to commit suicide before, not after.