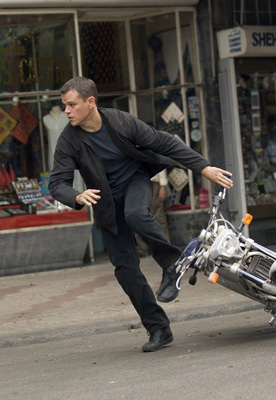 I haven't seen these new movies but I'm ready to offer these reviews anyway.
Let's start with Transformers. This is a big, ear-splittingly loud movie that's sure to please your kids and your adulthood-phobic friends. Great special effects and huge big things everywhere. If you loved transformers back in the day, this will remind you of your first Nintendo and how popular you were when you got a new game for it. The storyline is simple but still baffling. Broad, topical jokes help to pass the time between big transformer things crashing around cities and making a mess.
The Bourne Ultimatum. In this sequel, Matt Damon looks gayer than ever. Julia Styles and Joan Allen are both kind of blah and therefore help to keep the attention on Matt, who has that 'concerned' look down pat. He runs a lot in this action-packed film, looking very fit and appearing in briefs to remind his core audience why they see his movies. Great scenery; Russia looks just like you've always pictured it. Great Russian accents throughout. Loud syrupy soundtrack reminds you how to feel. You will never be able to follow the plot but you'll feel exhausted at the end anyway. Very satisfying if you like mass-market thrillers.
I Now Pronounce You Chuck and Larry. This is a lively one-note comedy that tries to have its cake and eat it too. Filled with gay stereotypes and silly demeaning jokes about gays, it also wants you to think it's promoting tolerance. Gay characters here are much nicer and nobler than the heteros. The message is, We all need some Gays in our Life! Adam Sandler is grating as always. Jessica Biel is on hand to distract you from the tired comedy with her famed bubble-butt and suspiciously tiny chiseled nose.
Finally, Hairspray. In this tragic adaptation, John Travolta will horrify you on every level. You can tell yourself he's not gay as much as you want, but that won't change things. A cast full of great actors like Christopher Walken doesn't help to redeem this mess. Newcomer Nikki Blonsky in the role of Tracy will win your heart, just like all spunky fat girls with great big hair. The sets and costumes are fabulous, though. If you can see it without the soundtrack, it might be worth your money.