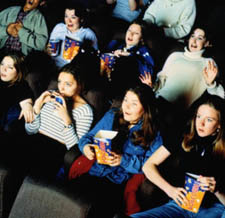 As a public service, I will be reviewing movies that haven't come out yet. I haven't seen them, but that's not important. I have seen them in my mind's eye, and that's enough.
Reign Over Me is a shameless tearjerker about Friendship, starring the always awful Adam Sandler and the overworked Don Cheadle. It manages to use Sept. 11 as a device to generate pathos,   without having anything worthwhile to say about it. It makes me sick to even think about this movie, which is the work of Mike Binder, a hack who wrote one of the worst TV series ever, The Mind of   a Married Man.
Grindhouse is an over-the-top shocker designed to get people all worked up about cinematic violence. Full of disturbing imagery, it features an amputee super-woman on a killing spree. A big mash-up of  B-movie references so that hipsters can feel clever when they watch it. Blood everywhere, surf guitar, basically the work of a bankrupt imagination, masquerading as social comment. No no no, take it away!
The Hills Have Eyes 2 is a predictable   sequel. Everyone screams a lot and blood squirts all over everything. Bad things happen to youngish good-looking people. A movie for people who like video game violence but don't want to go to Iraq. A waste of time and money unless you're a 15 year old boy with   poor social skills.
The Nanny Diaries is a mildly amusing story without much of a plot, but Scarlett Johansson has a nice bustline. Alicia Keys can't really act but has an endearing presense. Laura Lynney does her best to play a wealthy mean bitch, with the hugely irritating Paul Giamatti as her husband. Lots of shots of upper class New York give it a pseudo-Woody Allen quality. This movie would make an okay rental when nothing better is available.
There you have it!   Let me know if you have any requests.