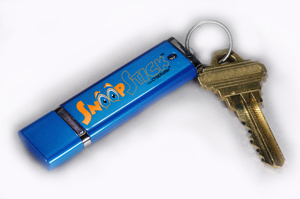 This is so not good. I can't even begin to say how not good it is.
This little device allows you to monitor what someone is doing on their computer in real time, and they have no way of knowing it. You can monitor both sides of instant message chats! You can store 12 months of activity logs on your Snoopstick, which fits handily on your keychain.
For only $59.95, you can bust your spouse, your lover, your kid, or in the case of my kid, your mom.
I will be keeping my computer in a locked safe from now on. Shit.