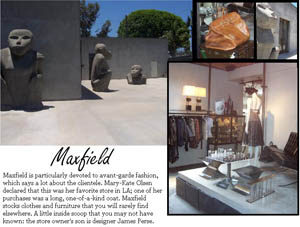 Maxfield is a celebrated bastion of high-end designer fashion in West Hollywood,   where regular people like me can rub shoulders with anorexic model types and wealthy Japanese tourists. I went there for the first time yesterday with my friend Mark, who was craving a fix of Comme des Garcons.
We were greeted by several black-clad sales people, including a fat girl who told me, "I love your Vivienne Westwood bag," which immediately made me feel bad about myself.
I wandered around in a daze, astonished by all the skull crap. Let me tell you, in L.A. the skull is still going strong. There were glass cabinets filled with diamond skull jewelry, skull replicas of every description, more skulls than you could shake a stick at. As if to prove the point, a Japanese guy wearing an elaborately rhinestoned skull hoodie and pseudo-gangster chains passed my way and grunted "Hi," or maybe he was clearing his throat.
Racks of overpriced shapeless garments by all the important brands formed the periphery of the store. There were shelves of pointy shoes for the men, and ugly distressed oxfords for women. A sales girl urged a pregnant woman to buy a pair of shoes that screamed "Club Foot!"   I picked up a nice belt that turned out to have skull-shaped bronze skulls and cost $395.
Elsewhere, there was a long rack of Chanel items, including a $5,000 chain belt. A vintage Birken bag was $25,000. Nothing looked tempting, except for a furry handbag with a wristlet covered in big green glass gems. The tag on it was black, with black writing, so I was spared from learning its provenance or price.
The most striking aspect of Maxfield is the owner's love of taxidermy, which is the new hip thing if you've been in a coma for the last five years. There were at least a dozen of stuffed chickens dressed in little waistcoats and necklaces. Most spectacularly unpleasant were a pair of stuffed leopards, one supporting a glass table top and the other laying dead upon the table, surrounded by candles and wallets.
I pet the poor dead animal and we booked to the Paul Smith boutique down the street, where everything was happy in shades of pink, green and chartreuse.