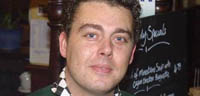 Mark Dixie, 37, an unemployed chef, insisted today during his murder trial that he didn't kill 18 year old Sally Anne Bowman, but rather had sex with her dead body. Dixie claims that he came across the body laying in a driveway, and didn't realize she was dead "until after the sex."
The girl was stabbed several times and was surrounded by a pool of blood. Dixie says he knew something was wrong when she didn't react to his bites.
I think the law is being too hard on this guy. Who among us hasn't come upon a prostrate body and felt aroused? How are you supposed to know it's a corpse? We're not all forensic scientists, for Christ sake!