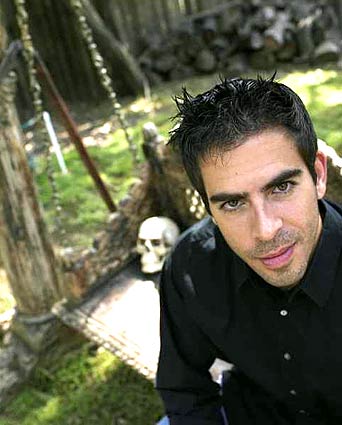 I don't have to see Hostel or Hostel II to know that the guy responsible for these films is a total douchebag. And while I try to avoid the term 'douchebag,' sometimes nothing else will do.
Eli Roth is pleased to tell us that Le Monde chose Hostel as the best American film of the year, over The Departed. Also, he goes on, an "art form magazine called Hostel the smartest film they'd seen on American foreign policy and American imperialism." Isn't that nice? He's been applauded for the genius he is, using explicit torture scenes to make his noble points about foreign policy.
I hate guys who foist garbage on people while insisting it's a metaphor for garbage. I   hate this guy in particular for his pretentiousness. He seems like a spoiled brat whose psychoanalyst father and artist mother really fucked him up. He says they took him to see 'The Exorcist' when he was six, and marvels at how cool that was. Poor Eli! I guess he was traumatized, but that doesn't excuse his wretched exploitation films and the aggregate damage done to filmgoers anxious to prove they can withstand the worst images of human suffering.
Eli Roth is also a connoisseur of teen movies like 'Porky's' and "anything with Scott Baio." See, he's ironic and post-modern! More reasons to love him, and by that I mean hate him, because I like irony, too. In an interview he gave on the eve of his first hit movie, 'Cabin Fever' (also about torture and probably imperialism or maybe global warming) he reveals his plan to make a teen movie called 'Scavenger Hunt.' He says he's going to bring back "real kids and bush. That's what's gonna come back. We've gotta bring bush back to movies."
For   a moment, I'm ashamed to say I didn't know what the hell he was talking about. Then he wraps up the interview with, "I just want real tits and bush!" Oh. That makes sense. I think Eli Roth needs a better psychiatrist than his dad. More to the point, I think he's a fucking douchebag who needs to die. If only I could kill him,   Le Monde might recognize it as my statement about American consumerism.
I know 'Hostel II' will make a lot of money. I think I'll save my money for 'Scavenger Hunt.'