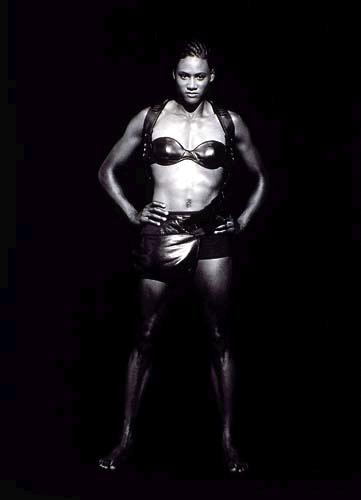 I've always thought that Marion Jones  was a goddess, and I don't care that she took steroids. I can't believe the outrage heaped upon her. What a morally backward society we are!
Why don't all athletes just take steroids, like bodybuilders and football players? Marion Jones wanted to break the world record set by Flo Jo, another user of steroids. Venus and Serena look like they're on steroids, and god bless 'em, as far as I'm concerned.
Most women could be pumped with steroids and HGH and never have a fraction of Marion Jones' ability.
Oprah was really mad at poor Marion, who has to leave a seven month old child to appease the need of some judge to make a cautionary tale out of her. Oprah's steely gaze failed to prove that she's a better woman than Marion, who she reprimanded for calling her "ma'am."
I love you, Marion. You could have asked Oprah about Gail, but you were too classy for that shit. God bless you for your courage and dignity.