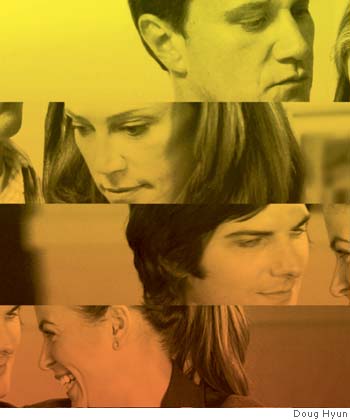 Nothing could prepare me for the awfulness of HBO's new drama, "Tell Me You Love Me," not even the deeply annoying "Californication," Showtime's own genital-driven atrocity starring that guy from the X-files.
"Tell Me You Love Me" follows the dirge-like unhappiness of three couples, who should all be shot, in my humble opinion. Two of the wives look like Sheryl Crow, and all three of the men are required to exhibit their balls, for some reason. While I'm sure that's a treat for some viewers, I found myself dreading each succeeding sex scene. Are testicles the new black this season?
I wondered aloud why the show wasn't considered porn, but then I remembered that HBO's mandate is to be Not TV. That used to mean boldly original, back in the day. Now, it just means icky night-time soap opera.
Here I was so relieved to be through with "John From Cincinnati," and look what I get! A bunch of dreary couples who can't get along with or without sex, who are traumatized by masturbation and Tampax. Tonight's opening episode ends with the 150 year old marriage counselor in bed with her amorous white-haired husband, who looks like he's just wandered in from a Viagra ad. As her head moved down his body, I screamed and covered my eyes.
If they did anything involving his balls, I don't want to know. I think a better name for this series would by "The Horror of Intimacy." Be warned.