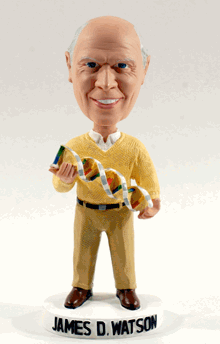 Here is the interview from the Sunday Times that got Dr. Watson, who discovered DNA, in so much trouble. He insists that Blacks are less intelligent than Whites, and says that 'people who have to deal with Black employees' know this to be true.
Jesus, what a fruitcake this guy is. It's a good thing that everything he says is bonkers, or we'd REALLY be mad!
If you need a handcrafted Bobble Head of Dr. Watson, go here.