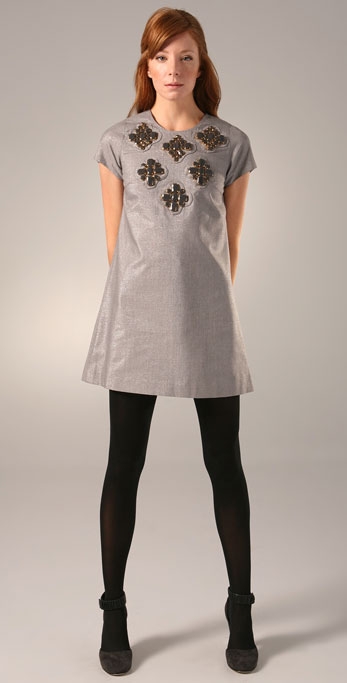 I am pleased to share Shopbop's 'Most popular Top Sellers,' which they kindly revealed to me today. I'm not sure if they think I'll hurry to buy one of these items, so as to join the In-Crowd, or to make sure I'm 'on trend' (a term that's like a knife in my heart.)
Maybe they just want to help me confirm my distaste for these popular items. That must be it. Good job, Shopbop, you know me so well, it's uncanny.
1. Dress by T-bags:   Hate it.
2. Jeans by J Brand: Hate J Brand
3. Dress by Lewis Cho: Blah dress, sick of seeing his name
4. Boots by Loeffler Randall: Hate this overpriced brand
5. Juicy Couture Tracksuit: Ha Ha, as if!
6. Tory Burch flats: Like I want everyone to recognize her logo?
7. Bag by Marc Jacobs: Crappy bag, and I'm against Marc Jacobs on principle
8. Mini by Karta: Horrible dress, it even looks horrible on the model, Sad Redhead Girl.
9. Ugg Boots: Please!
10. Cashmere Turtleneck: Ugh, hate turtlenecks
There are more items, by Diane Von Furstenberg, Dolce Vita, James Perse, etc. No, no, no, and no.
I'm only sorry they forgot to add a coat with balloon sleeves and something by Philip Lim. Then my list of I Don't Want It would be complete.
I still love Shopbop, though, and I look at their shit religiously, every single day. I'm not sure why. Maybe it's to check up on Starving Girl and Sad Redhead Girl, who looks a little like Sissy Spacek and as I've only just noticed, has a wonky eye. No wonder she's always sad.