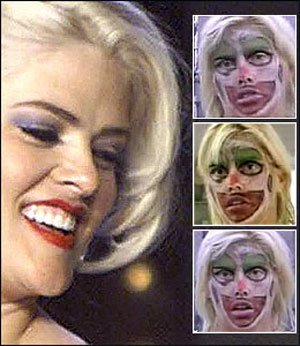 For those of you who had to go to work and had to miss the ANS hearing, here is a synopsis:
Judge Seidlin was a showboating nutcase who babbled incoherent asides throughout the hearing and turned out to be a big crybaby. He needs to be disbarred ASAP.
Anna's mom, Virgie,   a mean-looking former police officer , wasn't very convincing in her bid to get her daughter's decomposing body. No one would want to go home with that woman, even if you were already dead.
Howard K. Stern came off like a gigolo wearing a Devil mask. His lawyer, Krista, was a loudmouthed blonde in the tradition of Ann Coulter. Larry Birkhead's lawyer, Debra, was a scary dyke type who never got her way but always acted triumphant.
Virgie was nicknamed "Mama" by the crazy Judge, who called the lawyers by their respective home states.
Larry Birkhead was a stunning Dreamboat whose looks moved the judge to blurt out "You really are charming! I noticed you when you first walked in!" Birkhead maintained the gentlemanly manner of a young Elvis Presley. Anna, nice choice, for once!
Everyone conducted themselves like hungry jackals except for Larry. Virgie's lawyer, "Texas,"  fainted at one point, and the whole group took a surprise fieldtrip to the morgue to view the rotting remains.
In the end, poor Anna was awarded to her daughter's appointed guardian, Richard Milstein, who promptly decided to bury the remains in the Bahamas, where 6 months ago, Howard made a video of a pregnant Anna Nicole Smith painted up like a clown and staring vacantly into the camera repeating "What? What?"in the voice of a bewildered two-year old.
What, What, indeed, is my assessment. Stay tuned for the battle over the baby daddy.