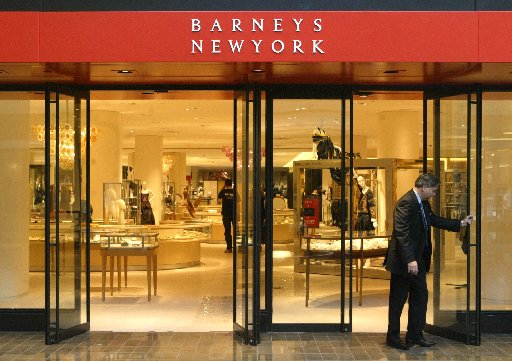 When my friend Tim informed me that Barneys New York has been bought by an investment arm of the Dubai government, I was very upset. It's not like Barneys will only sell burkas from now on, but somehow it feels like a betrayal on the part of the Jones Apparel Group, who accepted the offer of $825. Couldn't Salma Hayek get that billionaire boyfriend to buy it for her, since he already runs Gucci, YSL, Balenciaga, etc. etc.? Where's Salma when you need her?
I probably won't stop going to Barneys, but I think I know what the Brits felt like when Harrods was bought by Mohamed Al Fayed. I guess it's kind of xenophobic, which isn't a good thing. I didn't even know about the huge statue of Dodi and Diana that Mr. Al Fayed wanted to perch  atop the roof of Harrods. He ended up putting it inside, near Door 3. It's called "Innocent Victims." Even if it's true they were both cokeheads, I believe in their victim hood.
If Salma had bought Barneys, she could have commissioned a statue of Frida Kahlo for the roof! What a wasted opportunity. If I could buy Barneys, I wouldn't change a thing, although wait, I would change a thing here and there. I'd make those aggressive people in the cosmetics department scale back their attack. I'd have a bigger lingerie department. That's it, I think. I wouldn't need to erect a shrine there, although last week I heard that I just missed the Olsen Twins as I was leaving Barneys in Beverly Hills. Maybe a bronze statue of the Olsen Twins would be nice, holding up their gigantic handbags.
I once heard that in Dubai, you can buy burkas by Chanel. The cloth has little embossed Chanel logos that you can barely see, but who wants an old generic burka if you can pay an extra thousand dollars for Chanel?