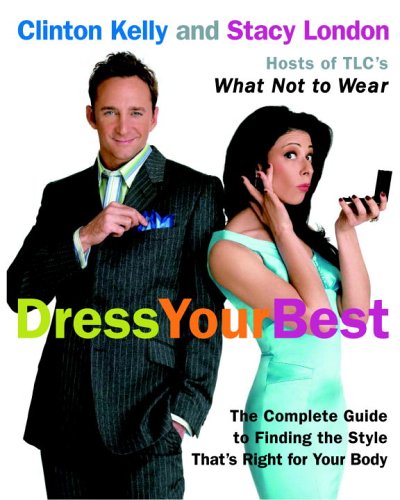 Last night I watched a TV make-over show for the first time. "What Not To Wear" features a pair of obnoxious "fashion authorities" who convert a normal looking person who has developed their own style, into a bland non-entity you'd never look twice at.
The show I watched involved a sweet 33 year old woman who just got a promotion at work and dressed like a classic rockabilly chick. Most of her clothes were black, with lots of skulls, cherries, and crosses. She loved leopard print handbags and coats. She would have a blast at Hot Topic, in other words. It wasn't very original, but it was a Look.
The "experts," Stacy and Clinton, who look like a Persian housewife and an aging preppy hairdresser, respectively, tore into the poor woman like hungry jackals, and I guess that's supposed to be the fun part of the show. Maybe it's fun to watch average people being ridiculed?   They witlessly mocked her taste in clothes, and dumped all her stuff into a big box. She looked genuinely freaked out.
In the end, Stacy and Clinton had persuaded the woman to cut her long natural hair into a frizzy mass of  dyed layers, and she modeled some new outfits that made her look generically frumpy and at least ten years older. Now she can fit in anywhere, especially at Target.
The funny thing is, I actually imagined that a show called "What Not To Wear" would transform ugly ducklings into swans. Silly me! The goal is to divest everyone of their individual quirks, and send them home looking like a bank teller.
I would love to see Stacy in a burka, and Clinton in a prison outfit or maybe a coffin.