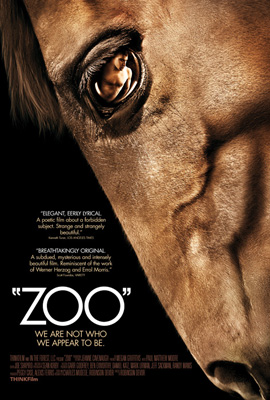 A new documentary called "Zoo" sounds too preposterous to be for real, but it's not a joke. The work of someone named Robertson Devor,   its subject is bestiality (whose practitioners call themselves zoophiles.)
Based on several reviews, the film sounds like a demented satire of NAMLA , but by all accounts, it is an effort to depict a taboo subculture without making judgments. It is described as visually impressionistic and arresting, with a moody score reminiscent of Philip Glass. It was inspired by an incident that took place in Seattle a few years ago: A 45 year old man died after having sex with a horse, observed and videotaped by two like-minded friends.
Call me intolerant, but guys who get together to mate with Arabian stallions are not okay, and don't have a case, period. But this film allows their whining voices to be heard. "It's much like you love your wife and kids," one zoo guy explains. Uh huh.
"You're not gonna be able to ask them about the latest Madonna album," another one notes, describing his relationship with horses. "They're not gonna know the difference between Tolstoy and Keats. It's a very simple, plain kind of world, and for the moment you can kind of switch off." Hm. This sounds like most of the guys I went out with before I got married. But they were all bipeds.
"I don't need a high level of interaction, whether it be human or otherwise," says another horse-lover, not unlike the guys my best friend keeps meeting in bars. It's the "otherwise" that's kind of, um, fucked up.
If the zoo guys  seem oblivious to the animals' feelings and dignity, one of them assures the filmmaker that the horses "are happy to participate." "They're hittin' on you!" declares another.
Some reviews of this film are amazingly sympathetic. It's classy, it's lyrical, bla bla bla. One calls it "unexpectedly troubling." Goodness!   There's a reviewer who needs a vacation.
I must say, I am almost tempted to go and see "Zoo" which just opened at a popular art-house theater in my city. But I'm the type who yells stuff at the TV. I don't think I could sit through the screening without laughing hysterically, or at least shouting an impassioned "As if!"