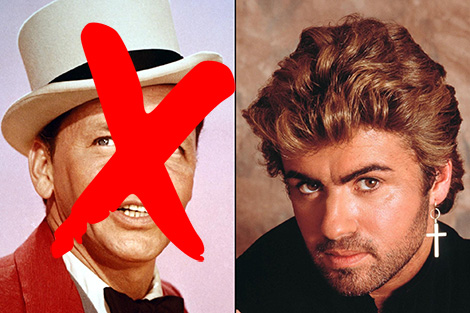 George Michael was my guilty secret at one time, a crush I was embarrassed to admit. But really, who could resist that beautiful voice and sensual face, the obscure sadness behind even his poppiest songs?
Another horrible loss to 2016, the second worst year of my life. Our icons are dropping like flies and only an assassin can save us from catastrophe in 2017.
Meanwhile, I was disgusted to learn that in 1990, Frank Sinatra felt compelled to respond to an interview with George Michael in the Los Angeles Times.
In the interview, Michael discussed his disillusionment with fame:
Stardom can make you miserable. After all, everybody wants to be a star. I certainly did, and I worked hard to get it. But I was miserable, and I don't want to feel that way again.
Well, that was too much for Old Blue eyes, who shot back with this letter.
"Loosen up. Swing, man." Jesus Christ, what a cunt. Who asked you, motherfucker?
Then the gossamer wings crack. Why not just call him a fairy, Frank?
I've seen this letter all over the place today, described as 'Sinatra's advice ' to George Michael.
It's just an arrogant prick spouting off. Fuck him.
As I have said too many times, if he died every day for the next hundred years, Frank Sinatra will never be dead enough for me.
R.I.P. George Michael, I miss you already.