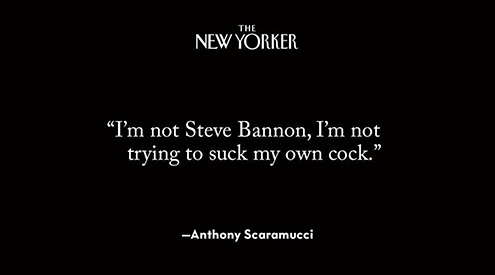 How many of you were thrilled by The Mooch's unhinged tirade as reported by Ryan Lizza in The New Yorker? Of course we were astounded at first but really, what's the big deal? In the Trump reality show, they have to keep upping the ante.
Now that Scaramucci has introduced cocksucking into the national dialogue, I personally could not be happier. Let's all go nuts, okay? It won't be long before someone in the White House calls Hillary a cunt. Should we count the days?
Meanwhile, the cocksucking.
Why won't the Mooch try to suck his own cock? Is it because he's so short? Does that make it harder? And why doesn't Steve Bannon succeed in sucking his own cock? How hard has he tried? Maybe he has actually got it mastered, but the Mooch doesn't know it?
Years ago, I came upon a portal to 1,500 photos of men sucking their own cocks. I swear to god I wasn't looking for porn or even penises. I might have been looking at vintage photos of petticoats or something, but suddenly, boom, I hit a database of photos. I was afraid to open it. I know I talk a good game but in reality I am very squeamish. I once saw a picture of a girl with two penises in her mouth and all I could think was that she looked like a walrus.
Anyway. In the rough and tumble world of alpha men, is there shame in sucking your own cock? It seems like a feat you might take some pride in. The flexibility! The determination! The high testosterone count!
Vice has some advice on how to suck your own cock, Steve Bannon, but I'm not going to read it. Show it to the Mooch when you're done.
Going forward, I hope Scaramucci will keep us apprised of all cocksucking in the White House. I'll bet Melania performed her last duty in that regard many years ago. Good for her.
What about Jared? Has he tried sucking his own cock? Is he sucking someone's else's cock? As the season progresses, I hope to find out. In fact, I hope that all will be revealed without having to wait for next season. I'm praying the show will be cancelled just as soon as Trump gets impeached, so we can all wash out mouths out.
But I guess I shouldn't get ahead of myself. As Winston Wolf says so eloquently in Pulp Fiction, " let's not start sucking each other's dicks quite yet."