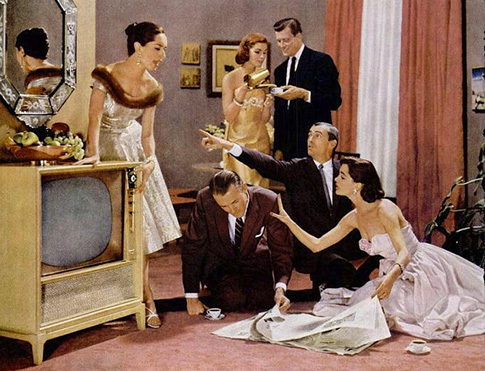 I am happy to report that since the last time I wrote about my TV habits, I've discovered three new shows to watch, all awful.
Most compellingly awful is Billions. It is excruciating. It stars Damian Lewis and Paul Giamatti as adversaries obsessed with bringing each other down. The former is a hedge-fund billionaire and the latter is a District Attorney. The great thing is that they both speak in weird, unnaturally husky whispers, with long pauses between each phrase. The result is so comical that one has to assume it's deliberate.
On the other hand, the writing is so stunningly terrible that maybe nobody notices how ridiculous the acting is. It's like a room full of writers tried to think of the worst dialogue they could come up with, in a battle of wits or lack thereof. There are a lot of stupid literary references to make the viewer feel educated, and plenty of over-the-top sexual analogies that all break down to "taking it up the ass."
Damian Lewis is as physically repellent as a used condom, with his red hair in a greasy pompadour and and his tight little mouth always curved in a nasty smirk. He wears skinny t-shirts and expresses his masculinity by liking Metallica. Really, I can't say enough about this show. If you don't watch it, you're missing out on some great TV.
Another new favorite is Shades of Blue, a cop drama starring J Lo as a seasoned NYPD detective who is raising a teenage daughter. What could be better? J Lo's commander and mentor is the corrupt Ray Liotta, more queeny than ever as Lt. Wozniak, who is struggling with the demon of bisexuality. Sold? Need more persuasion?
Okay, so J Lo wears a ton of make up, except when she's in the shower, miserably trying to cleanse her tortured soul while caressing her wet hair. Her acting is achingly bad, as always, but her charisma remains intact. The writing is rich in stupid cop cliches, and everybody always runs directly into danger, despite all logic or common sense.
Finally, there is Bosch. Detective Hieronymus 'Harry' Bosch is an L.A. police detective who does things His Way. Played by a Titus Welliver, who was great in Deadwood, Bosch has a black sidekick and a teenage daughter who looks around 25. Bosch lives in an architectural masterpiece up in the hills, where he stares out at the sky a lot. He's a morose sad-sack who gets the job done, while exasperating his lesbian chief. The most amazing thing about  Bosch is that he continually cocks his head to one side, even while walking out of the shot. The head-cocking is just nuts. Did the actor have a stroke or is this his idea of a quirk? That's the mystery that keeps you coming back.
Now, who can recommend another show in this league??