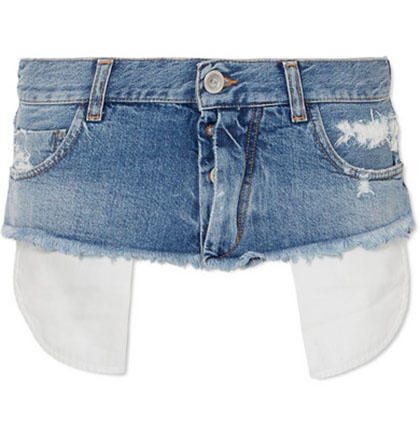 Like a bracing slap in the face, denim has returned with a vengeance for 2018, starting with this brilliant Denim Waist Belt by Unravel Project.
Designed to appear like it's been sliced from the top of your favorite jeans, this faded blue version has frayed edges and exposed pockets. It looks even cooler with a slim leather strap over the top.
I'd say it's not "designed to appear" like the top of some jeans, but actually IS the top of some jeans. Should we run out to Goodwill and buy some jeans for $9 and cut off the  top?? We would be saving $441!  Here's how to wear it: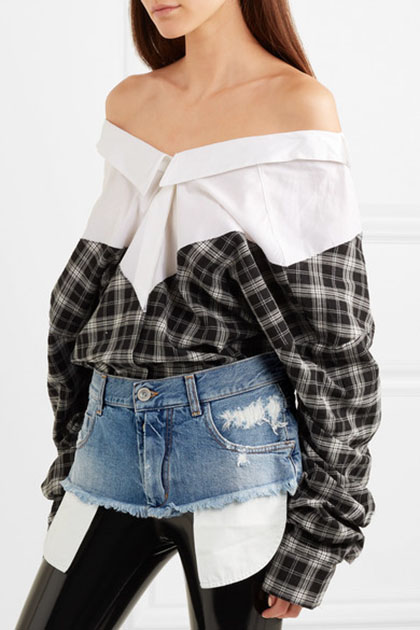 See how cute??
What couldn't you wear this with, you know? Imagine transforming a dress or coat with this Denim Waist Belt. Or, if you have no imagination, you might just wear it over the same brand's Distressed Oversized Jeans:
Made in Italy from rigid denim, they have an intentionally baggy, oversized fit and are shredded through the front for a '90s grunge feel.
After 50 million versions of shredded jeans, they still expect us to bite? At $675? You could just get these on a sale rack at Sears. Together, these two "pieces" would cost over $1,000. I like their chutzpah at Unravel Project. Good for them.
These look fresh for spring, because ruffles: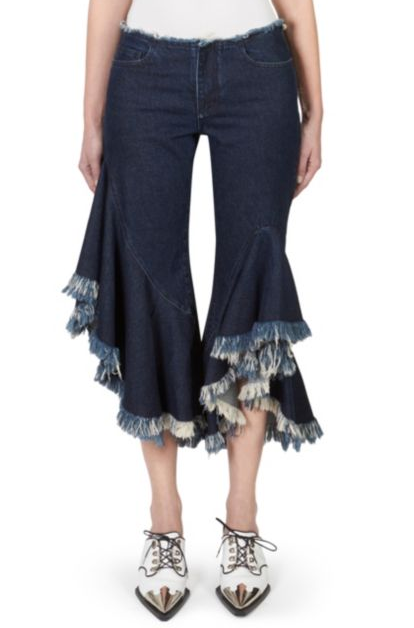 I love that they're asymmetrical, and I can only hope they bounce around when you walk. $522.50 at Saks.
Pushing the ugly, excessive overkill aesthetic, Dolce & Gabbana brings us this:
Cotton blend denim with painted floral and leopard motif
Ew. Are they really painted? They're nearly sold out at $1,875. Are they made with Kylie Jenner in mind or what? Is there still a segment of Eurotrash who would wear these at a club in Las Vegas? I need more information to grasp the brand's concept here.
Finally, brought to you by Greg Lauren, our go-to guy for the truly audacious and reprehensible, a jacket:
Greg Lauren's snorkel flight jacket is crafted of light blue heavily distressed cotton denim and trimmed at the butterfly hood with faux fur.
Haha, Greg, what's a snorkel flight jacket? There is so much going on here, I can't even itemize the features that add up to $3,125 worth of eyesore.  But I'll try.
Fading. Paint splatter. Bleach stains. Holes. Rip details. Button-and-loop storm placket. Butterfly hood with faux-fur trim. Rib cuffs with chewed edges. Fake blanket lining. A shitload of buttons or rivets or whatever they are.
The rear-view is a nice coda: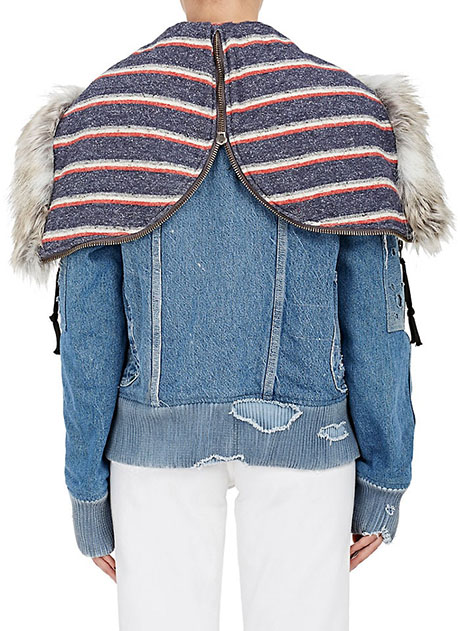 BAM!
You can get this on sale at Barneys if you hurry.