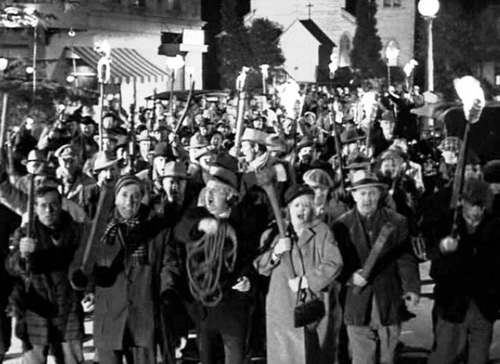 I was going to write about something else but a tweet from a journalist I like has destroyed my equilibrium.  Brian Stelter shared a threat he got from a disgruntled Trump supporter: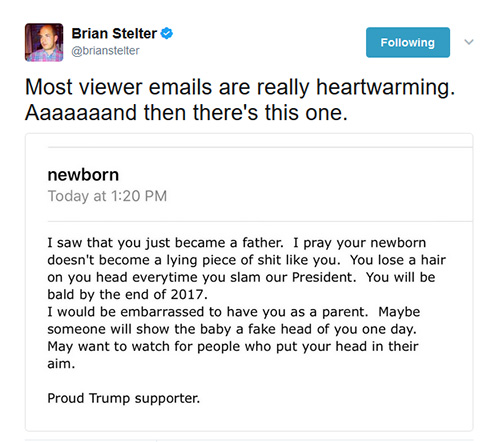 What inspires a person to take the time to insult and threaten a complete stranger?
When you take this kind of rabid free-floating rage and hatred and you multiply it by ten million, you've got a real mess. Slobbering, irrational defenders of some twisted 'ideal' are everywhere, finally getting their chance to do some damage however minor. It all adds up.
It adds up and it spreads like a virus. I am part of it. When Ivanka Trump tweets some simpering crap about motherhood, I taunt her. It makes me feel better. However, I'm going to rethink this. I don't want to be part of any social media hate mob.
I blame Trump for inciting misguided rage and hatred, but it began with the tea party and before that by American meddling in the Middle East. Trump harnessed it and exploited it after half of America went berserk about having a black president. And now, we look at our neighbors and Facebook friends with unease; are they one of Us or one of Them?
Look how easily fear changes people. The forces in charge want to generate fear because it grooms us for manipulation. Fear of perspiration, dandruff, dingy teeth, a limp dick, high cholesterol, cancer, malware, identity theft, militias, drug companies, pesticides,  poverty, terrorists, and nuclear destruction.
Now we've turned on comedians. How dare they! Me, I don't want to suppress free speech. If you don't like a comedian or Ann Coulter, don't listen. But people seem primed to be outraged. The smallest things set them off. Maybe the big picture is too overwhelming?
Thinking about terrorists and the death cult that seduced them, I imagine how they've been groomed to become suicidal martyrs. That's a lot of hardcore grooming. You probably have to start with a vulnerable person who feels bitterly cheated and immutably insignificant. Dying in a blaze of glory becomes more appealing that a lifetime of being a nameless dishwasher somewhere.
Poverty, hopelessness, lack of education, plus the systematic instilling of fear – is that the recipe?
Here in the US, Trump has used that recipe with the instincts of a mad savant. The sooner he is revealed as what he is to his deluded followers, the better we can think things through.
I'm not preaching Let's All Be Nice and Love Each Other: just slow down and decide what kind of person you want to be. Start with compassion and you can't go wrong.
Instead of tweeting "Shut up you stupid whore" to Ivanka, I'm going to remember that she is a victim of … I don't know, incest? She too is a human being. I'm not so sure about Jared though.