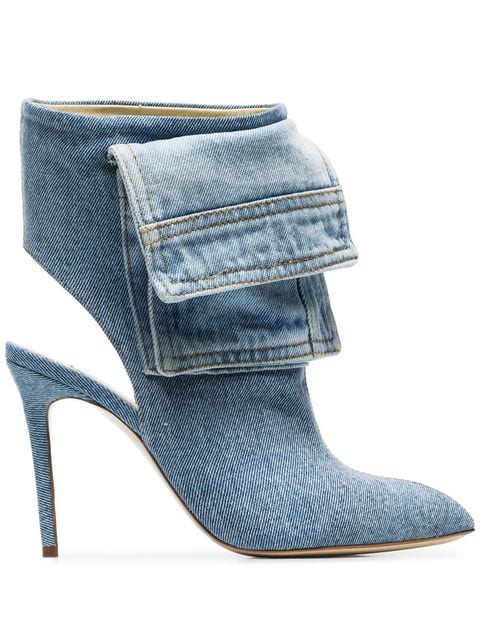 Sometimes I go looking for trouble but other times it assaults me when I'm doing what I call Minding My Own Business. These fucking boots are in the second category.
I was scrolling through the new arrivals at farfetch.com when they came at me. What the fuck is wrong with this designer, Natasha Zinko? Everything she makes is a monstrosity, just pure visual hell. If you do a search of the brand at farfetch, you will want to kill her.
Anyway, the stupid sleeve-flaps hanging from this boot…let the website explain.
Much like the designer herself, Natasha Zinko is fun, vibrant and brimming with energy. Her personality undoubtedly shows through each clothing piece. These blue 100 denim-wrapped leather ankle boots from Natasha Zinko feature a pull-on style, a pointed toe, side flap pockets, a cut-out heel, a 100mm high stiletto heel and a leather sole.
The price, $1,313 is also an affront. Why the double 13? Round up or down, motherfuckers.
But then, not content to wallow in the nightmare of the boots, I went looking for one of my favorite tools of self-harm, the ex-wife's monthly column in her neighborhood paper. This month, she is expounding on the weather.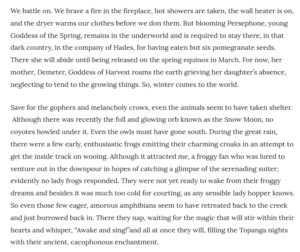 Try reading it aloud, if you're alone. Or to your partner, if he wasn't ever married to her.
How can this be real, the real thoughts and words of a human brain? Each time, I am amazed. Or as she might put it, amazed anew.
God. On the other hand, I'd be sad without the torments of the internet. Wouldn't you? Or not?