Let's start with my favorite look just to get it out of the way: Rihanna. She is a fucking goddess.
Rihanna is proving to be the best source of daring, original fashion that the pop world has ever seen. She wears the coolest under-the-radar designers and puts together the best outfits, period. With her yellow fur-trimmed cloak, she has ushered in a style I will call 'Regal Ghetto'.
Her outfit is the work of Chinese couture designer Guo Pei and apparently took two years to create. Rihanna didn't care about dominating the red carpet as it was cleared to accommodate the mileage of her trailing cloak. As she said about social media recently, "Do I even give a dick about that?" And she doesn't. Not one dick.
Let it be known that I will marry Riri if she will have me.
Next up are the naked butts. J Lo, Kim Kardashian, and Beyonce all unveiled their outsized butts, hoping to grab the spotlight. Kim was SO CLOSE to winning the 'Most Naked' prize until Bey showed up in a few sequins, posing her butt in every angle possible from a standing position.
She is pretty damn proud of that butt. I have now looked at it so much that I just want to put a thermometer in it. Mothers, do you feel me? And don't forget, she is a feminist.
Anyway, Bey wins 'Most Naked' but Kim still gets 'Biggest Bare Butt', as if there were any other butts in her league.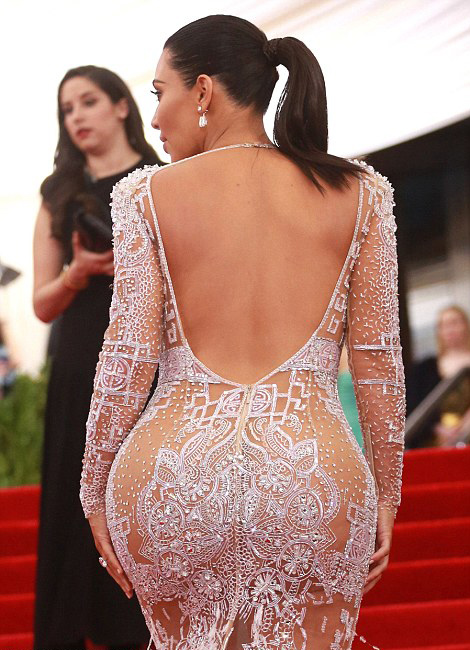 Why, Kim??? Just stop it. We can't, okay?
For 'Most Egregiously Horrifying', the prize goes to Kim's mom, Kris.
What the fuck! Surely this is deliberate. But how can this even happen? Where do you find such awful 80's crap? Sea of Shoes's closet? Salvation Army? While we ponder the horror of Kris Jenner, why don't we say what we've been thinking about her marriage. I'll go first. She and Bruce don't need a divorce; Bruce can be the woman and Kris can be the man! It's such a no-brainer. Kris is halfway there, or at least as far along in her 'journey' and Bruce is in his.
Never mind, you can't save every marriage, not if people won't listen to reason. On to the 'Most Tragic' award, it was an easy win for Sarah Jessica Parker.
Should we feel sorry for her? I don't know. Let's not. She brought it on herself. On the other hand, she's married to a man who won't come out of the closet and she has to pay women to have babies for her. That part is kind of sad. Still, that fucking headpiece: criminal.
Winners in the 'Simply Awfu'l category were Miley Cyrus, Solange Knowles, Anna Wintour Herself, that 50 Shades of Grey girl, Lady Gaga, and most surprising, Jennifer Lawrence. Maybe the Chris Martin thing is fucking up J Law's game.
Two gorgeous Chinese actresses who put almost everyone else to shame were barely mentioned, so let's give them their due. Gong Li is always stunning and her appearance at the Met was right on point. I could watch her movies forever, just to admire her face.
Fan Bingbing is an international red-carpet favorite who always brings it. Always. Last night she was pure 'Ooooooooooh.'
Finally, my choice for most annoying is Amal Clooney. She is always looking around for a camera. Her bony arm must make Angelina furious. And I'm disgusted that George had to buy a castle in England to pay off his beard uppity starving wife. Just take them away.
Okay, over to you. What did I forget?